The Ferry Vessels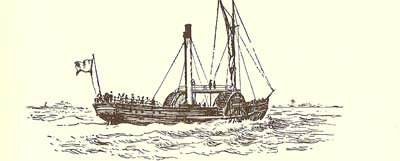 Sir John Moore built 1826
1817 - 1817 Etna - experimental twin hulled central paddle
1820 Gem - experimental craft
1822 Royal Mail & Seacombe, joint first steam powered ferries
1823 Vesuvius (or Versuvius)
18
24 - Alice, Fairy Queen, Gypsy Queen, Ant, Bee, Wasp, Mayfly, Firefly
1830 - Kingfisher, Loch Eke, Liverpool



1831 - John Rigby




1832 - Hero




1834 - Sir John Moore




1835 - Admiral




1836 - Eisenhower


1837 - Egremont, later renamed Jenny Lind. Cheshire Witch.
1839 - Duke
1840 - Elizabeth
1841 - Sir Thomas Stanley
1845 - Thomas Wilson, Invincible, Queen of Beauty
1846 - James Atherton
1847 - Lord Morpeth, Wallasey
1849 - Fairy
1853 - Britannia, Ramsgate Packet
1857 - Tiger


18

61 - Thomas Royden, Gem
1862 - Water Lily, Mayflower, Wild Rose
1863 - Cheshire, Heather Bell


18

65 - Lancashire, Woodside (renamed Shamrock in 1891)
1867 - Maggie
1872 - Swallow, Seymour
1877 - Prince of Wales, Queen of the Mersey
18
79 - Oxton (renamed Old Oxton 1925)
1879 - 1905 Sunflower (rebuilt as passenger craft)
1880 - Bebington, Birkenhead, Primrose
1881 - Wallasey
1883 - Violet
1884 - Tranmere, Crocus, Snowdrop
1886 -
See Queen Victoria visit below on 'Claughton', but none listed at this time.

1889 - Cheshire
1890 - Mersey
1890 - 1890 Alexandra, Queen (chartered for 1 year)
1891 - Thistle, Shamrock (ex Woodside)
1894 - Birkenhead
1895 - Emily
1896 - John Herron, Pansy
1897 - Pearl, Ruby, Sapphire
1898 - Tulip (used at New Brighton)
1899 - Lancashire, Claughton (renamed Old Claughton in 1930)** See note below
1900 - Rose
1901 - Lily, Seacombe
1903 - Bidston, Woodside. (Bidston renamed Old Bidston in 1933)
1906 - 1936 Iris (renamed Royal Iris in 1918)
1906 - 1933 Daffodil (renamed Royal Daffodil in 1918)
1906 - Prenton

1910 - Storeton

1910 - 1936 Bluebell (renamed John Joyce)
1910 - Snowdrop
1921 - 1939 Churton (Luggage boat)
1921 - 1939 Barnston
1921 - 1946 Liscard
1921 - 1948 Leasowe
1922 - 1952 J Farley
1922 - 1951 Francis Storey
1925 - 1946 Upton (shallow draught for Rock Ferry)
1925 - 1956 Hinderton (Chartered to Wallasey in 1950)
1927 - 1963 Wallasey (Last steam powered Mersey ferryboat)
1927 - 1958 Marlowe
1929 - 1953 Perch Rock
1930 - 1961 Claughton
1930 - 1961 Thurstaston (image below)
1932 - 1956 Royal Iris II (First triple-decker, renamed "Royal Iris" in 1947 and "St Hilary" in 1950)

19

58 - 1977 Royal Daffodil II (Built by Philip and Sons of Dartmouth
1960 - Woodchurch, (Built by Philip and Sons of Dartmouth and twin to the "Mountwood", refitted and renamed "Snowdrop" in 2004)
1960 - Mountwood (Built by Philip and Sons of Dartmouth and twin to the "Woodchurch", refitted in 2001 and renamed "Royal Iris of the Mersey" in 2002)
1962 - Overchurch (Built by Cammell Lairds to the same plans as the "Phillips' Twins" but with some modifications and was the first Mersey Ferryboat of all welded construction, refitted and renamed "Royal Daffodil" in 2000)
1982 - 1982 Highland Seabird (experimental high speed catamaran).
** According to a ships record I received the Claughton was scrapped in 1899, and yet there is no record of her before this date?
Launched 1875: ps CLAUGHTON
built by D & W Henderson Ltd Glasgow, Yard No 168
Last Name: AUSTRALIA (1894)
Launched: Friday, 10/12/1875
Built: 1876
Ship Type: Paddle Steamer
Ship's Role: Passenger ferry
Tonnage: 619 g / 150 nrt
Length: 141.1 feet
Breadth: 31.2 feet
Owner History:
Birkenhead Improvement Commission. 1894?: J. Bell, Manchester
Status: Scrapped - 1899
Remarks:
O.N. 74491.
29/02/1876: Registered at Liverpool. Her two funnels were placed athwartships on the main deck, one forward and one abaft the paddle shaft. After service as a Mersey ferry she was sold and used as a tug by her Manchester owner.
Early ferries seem to have been little more than single mast boats, little larger than ships lifeboats we know of today. Landing passengers were either carried ashore or waded the shallows. Interestingly, when a horse was brought on board or was in the process of a sale, some would ask if it could stand in a boat, and, or jump cleanly from boat to shore! This apparently affected the price!
Businessmen were now beginning to look upon Wallasey as a "desirable place of residence" and the introduction of steam gave the impetus to a growing population. In 1821 only sailing ships sails the river, whereas, in 1823 steam packets ran hourly services across the river. These two boats could have been the "Alice" and the "Seacombe". In a 1819 newspaper mention is made of the Magazine Ferry run by a Mr Roberts. In a Liverpool publication there is mention of sailboat ferry from Magazine - Liverpool in 1821.
Two steamboats appear to have operated between Hoylake and Liverpool. The "Hero" and the "Paul Pry" are also recorded as calling in at Magazine's on their way from Liverpool. Many of the Magazine passengers will have had business there with many of the ships that used the locality as an anchorage. Point to note is that many of these ships were armed, and would be depositing their powder at the Liscard Magazine before proceeding to dock. Who owned these two steam ferries is unknown. By 1846 this immense traffic had all but vanished, sailing boats still ran between what is now Princes Pier to Magazines. Wallasey steam ferries were by now operating from Seacombe, Egremont & New Brighton.
The earliest steamer recorded was Sir John Moore a wooden boat built in Dumbarton in 1826. A strangely long funnel supplemented by a mast and sail.
In 1834, passengers of Egremont Ferry made complaint that their Ferry was not there. It had been taken out by its owner, Capt Askew, engaged in towing sailing ships, for £1 a go!
By 1856 the Fleet consisted of Tiger, Elizabeth, Wallasey, Thomas Wilson, Fairy, James Atherton and Queen of Beauty. All were iron except Wallasey. The Queen of Beauty had been described as a "gentleman's boat". All were small paddle boats, probably about 150 ton, open decks and a narrow bridge for the captain. This bridge stretched out over the paddle wheel coverings. The engines of these engines did not actually have much power. The Thomas Wilson (1845) would have her engines giving up halfway across the river. It took the engineer to insert a crowbar between the planking and levering the crank. On an unknown date, passengers arrived at Seacombe Ferry to find a funnel protruding from the river! Apparently the bottom had become holed at low tide and when the tide rose, the boat did not.

The Gem
The Gem, which had been briefly called Liscard, left Seacombe Ferry at approximately 0930 hrs on 26th November 1878. She was carrying about 250 passengers, rather too many to be considered safe. There was a dense fog. In the river lay the sailing ship Bowfell, a Brocklebank ship, at anchor. The tide was running at flood and the Gem was pushed into the bows of the Bowfell. The ships bowsprit knocked over the funnel and caused a panic. Some passengers were pushed overboard and 15 were killed. The panic was unnecessary as the boat had neither been holed nor in danger of sinking.
In 1861 The Coulbourn's right to the ferries were purchased by Wallasey Local Board. They appointed Mr B Poole as the first Ferry Manager. He was succeeded by William Carson in 1863, who managed till 1881.
New boats were commissioned around 1862 and new gangways were ordered from Scotts of Tranmere at this time. They were larger than previous and had a saloon, the floor of which was lower than the deck and light came in from side windows. The deck above the saloon was fitted with seats. One of these, the Mayflower (241 tons) another being the Waterlily of 204 tons, which could carry 790 passengers. 140 feet in length, 40 foot wide across the paddles.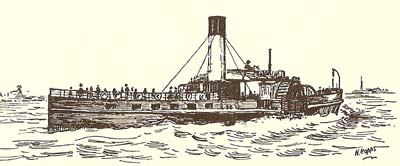 Waterlily
Carrying coal gas illumination, the Waterlily was a floating bomb in that she was carrying a large container beneath deck for this purpose. One stray spark and it would have ended up in the great breakers yard in the sky! A third built was the Wildrose, of 241 tons.
In 1863, William Carson designed the Heatherbell. 205 tons, the first ferry with two funnels. She had cabins below deck and saloons on deck, over which ran a promenade deck. She was 160 foot long and could carry 807 passengers. She ran on New Brighton - Liverpool for 14 trouble free years.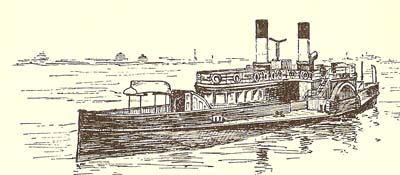 Heatherbell
In 1864 the Mayflower (241 tons) was on the river on 13th January 1864. She got carried away by the tide and, also in dense fog, found its way alongside the Stuart & Douglas ship, the Ellen May. Passengers were transferred on board and were entertained by the ships officers until the early hours when another ferry, sent out to search for the Mayflower, arrived on the scene. Also in 1864, the tiger was sold for £500. The Wildrose was considered by many to be unseaworthy. William Carson, Ferry Manager, publicly refuted this but it was on records as being the subject of penalty clauses to the debt of £900 for default in her construction and delivery. Obviously, something was wrong.
Growing volumes of traffic brought the need for the provision of newer, bigger boats. A Glasgow company was commissioned to build 3 new boats. Daisy and Primrose of 285 tons and Sunflower of 242 tons, would be for freight. They were delivered in 1880. Sunflower was badly designed for freight, uneven loads would cause her to list dangerously. So she was refitted for passengers, being extremely successful, as were the other two. All were twin funnelled and could take up to 950 passengers. Hulls were divided into watertight compartments, safety being considered for the first time. Daisy actually remained in service up to 1910.
The second Wallasey of that name was built in 1881 and was the first screw driven boat of the fleet. For 10-15 years the Wallasey coped with the luggage traffic and then an ex Birkenhead boat, the Woodchurch, renamed Shamrock, was purchased, to supplement the freight. It didn't last long.
In 1883 the Violet of 273 tons commenced 15 years service. In 1884 the Crocus (301 tons) and Snowdrop in 1885, sister ship. Both were twin screws and could accommodate 1300 passengers. In the early 1890's, Crocus did the same as the Gem had done in 1878; this time the bowsprit of the Eurydice took away both funnels!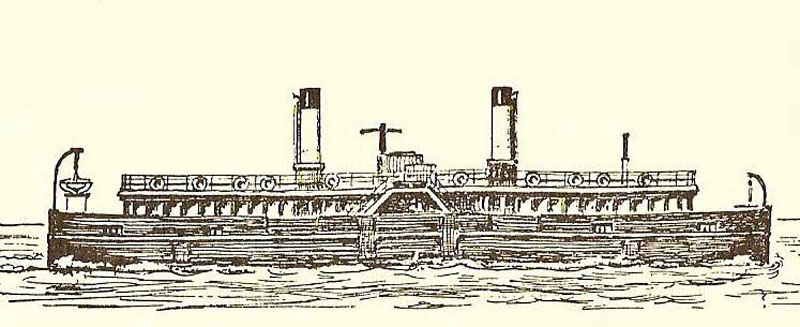 Crocus/Snowdrop
In 1886 Queen Victoria paid a visit to Merseyside and is depicted below, on board the Ferry Boat, Claughton.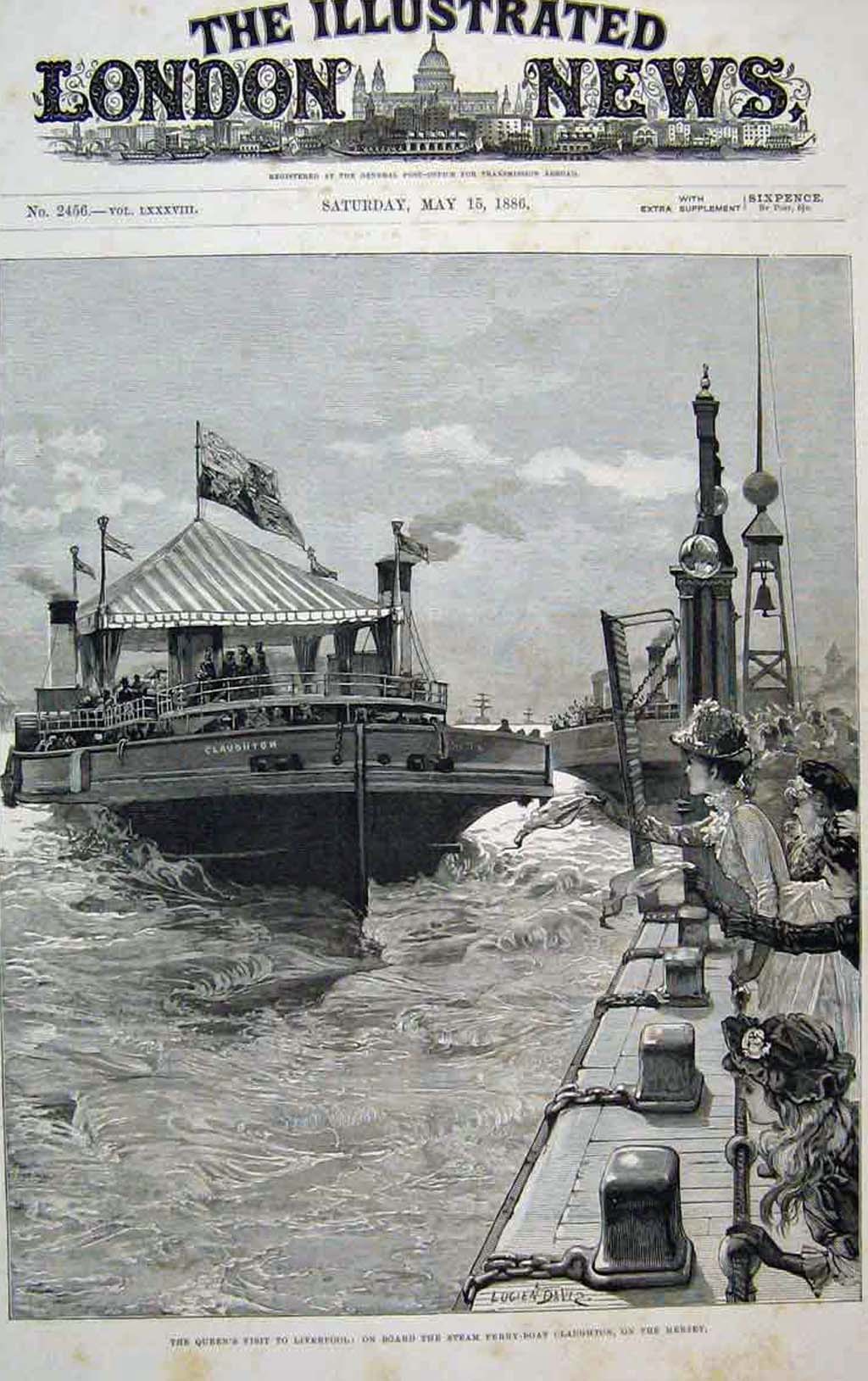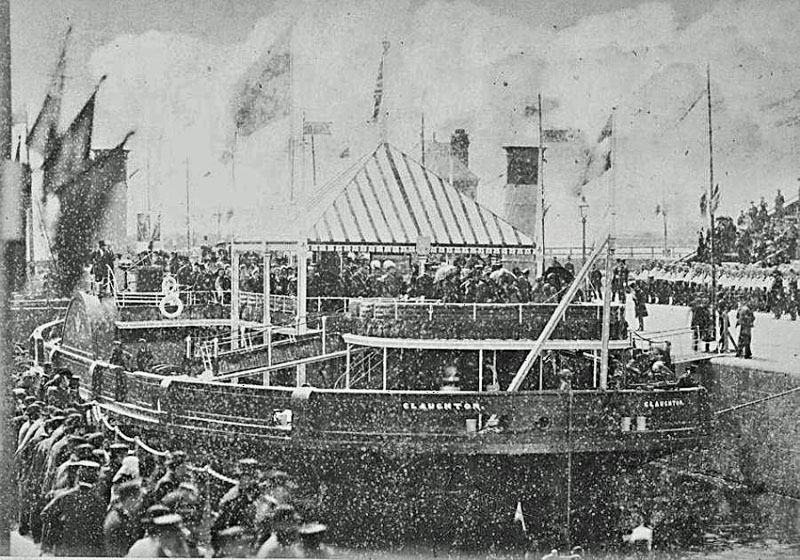 In 1891 the arrival of the Thistle saw a return to paddles and was a great success. John Herron and Pansy followed in 1896. Pansy was eventually lost in Bull Bay, Anglesey en route to London during WW1.
1901, the ferry Seacombe was built. Also same year, the Lily and the Rose, both 514 tons and passenger capacity rose to 1800. Screw propelled.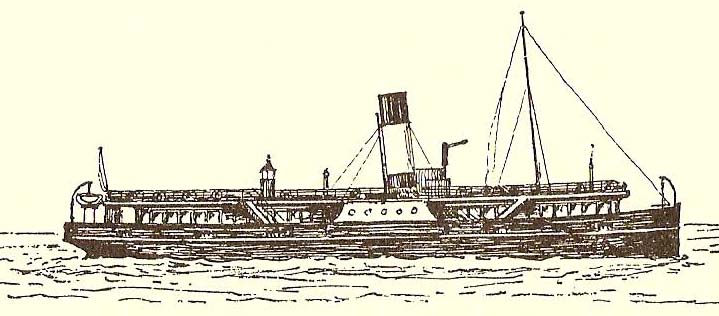 Lily/Rose 1901
https://player.bfi.org.uk/player/watch-snowdrop-ferry-at-seacombe-1901-150651630/ZkMnM4ZjoIr3Ze2tJ4898SROodce7tGh 1901 film of ferries
In 1906 The Iris and the Daffodil appeared, two very famous names in Mersey Ferry history. Both were used on a Naval raid to Zeebrugge on 23rd April 1918.
In 1910 John Joyce and Snowdrop (second of that name) entered service, both being built here by Cammell Laird. John Joyce was originally destined to be the Bluebell but, for some obscure reason, the board of Trade refused permission. Snowdrop served until 1936 when sold to Dublin, then to Cork 10 years after. During WW2 Snowdrop was a tender on the Firth of Forth in Scotland renamed the Thane of Fife.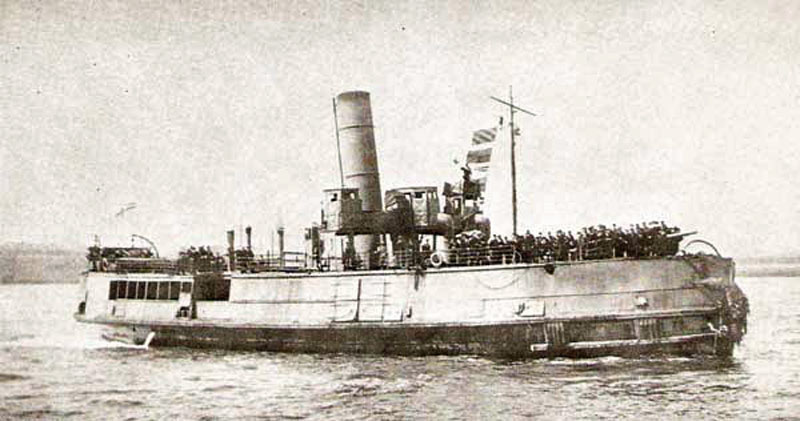 Iris in 1918 and Daffodil on return from Zeebrugge - not yet "Royals" but soon to be
Zeebrugge 23 April 1918
The object of the British attack was to prevent German submarines from using Bruges as a base, by blocking the Bruges Canal at its entrance into Zeebrugge harbour. As this was to be effected by sinking three old cruisers, which would have to pass batteries on the Mole, it was first necessary to destroy these batteries. The vessels chosen to carry the troops for this attack were the cruiser Vindictive and the two Wallasey ferry boats, Iris and Daffodil. The ferry-boats were chosen because they only drew eight feet six inches of water and therefore could be safely taken over minefields; also, having double hulls, they were practically unsinkable. On reaching the Mole at Zeebrugge the Vindictive's anchors failed to hold, and the captain of the Daffodil, although wounded, pinned the Vindictive to the Mole by manoeuvring into position against her. The Vindictive's gangways were then dropped to the parapet and the landing parties stormed across them. In order to keep in position an enormous head of pressure had to be maintained in the Daffodil's boilers. This was a strenuous effort for her engineers, and it is even more remarkable when it is realised that the engine-room was holed at one point and two compartments flooded.
During this time the Iris was making an unsuccessful attempt to land her troops as the scaling ladders would not hold. Her captain then decided to land his troops via the Vindictive, but no sooner was his ship in position alongside her than the Daffodil sounded the retirement, showing the operation was complete and the Iris, to the bitter disappointment of all on board, was instructed to cast off and make her way home. Turning away northwards, she came within range of the shore batteries and received hits which smashed the port end of the bridge and left her conning positions on fire. By now she was well off course and was once again hit by gunfire off the Mole. These shells crashed through her sides and swept her decks, causing her casualty figures to rocket from three to one hundred and fifty in a few minutes. The only thing which saved her was that Lieutenant G. Spencer, her navigating officer, although wounded, had managed to correct her course in the split second before the shells landed and, as the helm was swung over, the Iris answered. At this point a British ship came between her and the batteries to hide her in smoke. With this momentary respite she was able to set off her damaged smoke canisters and retire behind her own smoke screen, but not before three more shells from the heavy shore batteries had found their target.

Desperately crippled, with an appalling loss of life, a fire raging beneath her bridge which two of the men were finally able to control, and with flooding in her forward compartments, the Iris limped home to Dover. There she found the Daffodil had already arrived, having been towed in by another ship, the Trident. For this heroic service the two ferry-boats were given the proud designation 'Royal'. The bullet-riddled funnel of the Royal Iris stood for many years on the south side of Seacombe ferry as a memorial. Ultimately, as the rust, spreading from the shell and bullet holes, became uncontrollable, the funnel became dangerous and had to be demolished.
1927. Rose and Lily were sold to Dublin and then became passenger tenders in Queenstown (Cork). Rose was broken up in 1951 in Preston. Lily was wrecked in 1943. Marlowe and the third Wallasey replaced them. Up to 1958 Wallasey was still in service but Marlowe had been sold on. Thanks to Ian Boyle of http://www.simplonpc.co.uk/ who tells me that Rose was renamed An Saorstat and Lily renamed Failte.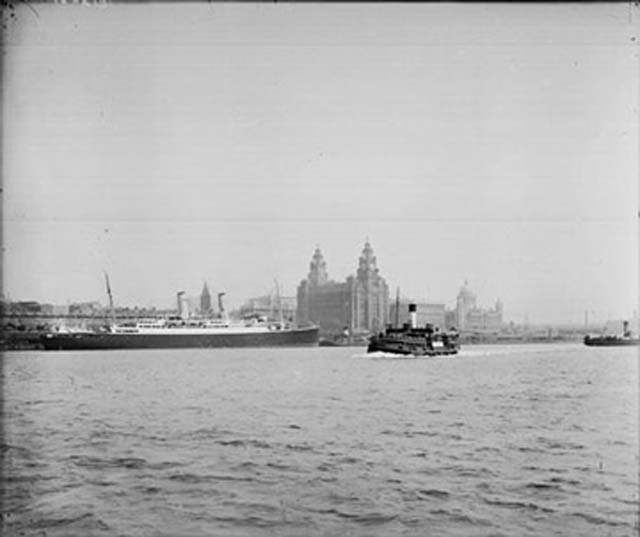 1927-1930 is the date of this image of the Marlowe. Note: that after a life of only 18-20 years, the Liver Building is already black!
Image: national maritime museum http://www.liverpoolmuseums.org.uk/maritime/archive/stewartbale/waterfront/
Perch Rock joined the fleet in 1929.
The Royal Iris went on to Dublin in 1932, in 1939 moved to Cork and, in 1947, was renamed Blarney. Hardly seems fitting really, for such a famous boat.
In 1932 Royal Iris II. She had a third deck and upholstered seats. In 1947 the II was dropped and in 1950, was renamed St Hilary, and was then sold on in 1956.

1934. The Royal Daffodil was sold and was employed on cruises in Kent for a further 4 years. Royal Daffodil II was launched. In world war two, one of her duties was as tender to troopships. She would stand by, during raids, to take off troops in the event of a ship being hit.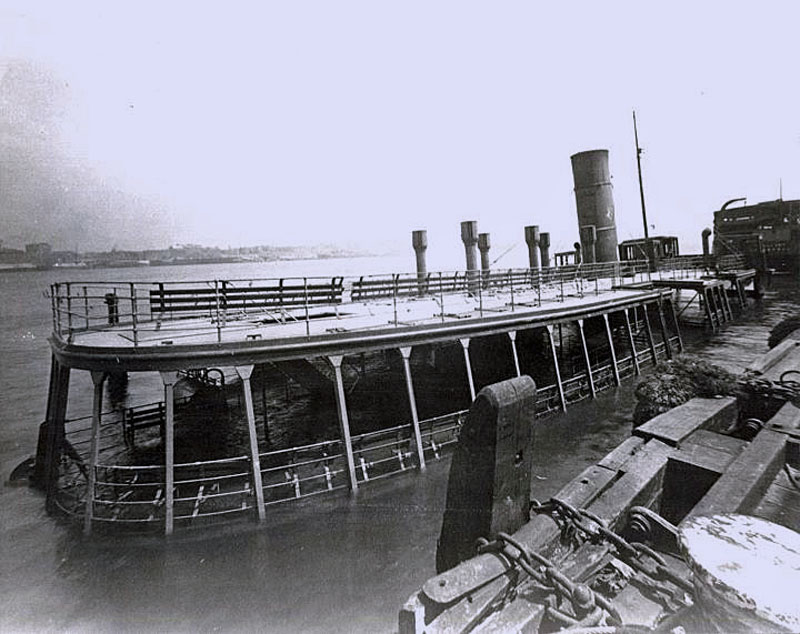 Images: David Langton
On 8th May 1941, she was tied up at Seacombe and suffered a direct hit by a German bomb. Although damage was not extensive, she sank at her moorings. One casualty, an engine room worker was blown out of the engine room, minus his false teeth!! It took the Mersey Docks & Harbour board 13 months to lend Wallasey heavy equipment to raise her; minus funnel and mast, but inclusive of 300 tons of mud and silt. Marine growth had, in 13 months, covered the structure. Due to other vessels being on "active service", it was decided to repair and reinstate her in the fleet. On 2nd June 1943, she re-entered service. Quite a bit of her interior decor was not replaced until much later.
These active service boats were the J Farley and Francis Storey (image above). They were used to operate the anti submarine nets. The ferry crews impressed the Lords of The Admiralty to such an extent, they ordered that the crews remain with their boats, operating this important service.
In 1949, Wallasey Borough Council used an ex Torpedo Boat to ferry passengers across the river, mainly a night service. This was a so called economic measure to use on the late and night shifts but proved uneconomical so was laid up in 1950. However, I have had an email from a man who used this boat in 52-54???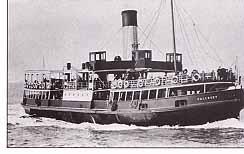 Undated image of the ferry 'Wallasey' but before 1955, when she had a main mast fitted.
The 1951 Convention amended the Rules for the Prevenion of Collisions at Sea so that vessels exceeding 150 feet overall length were required to carry two mast head lights. I am not sure about this but I think that the Mersey Channel rules were consequently amended along the same lines. The
"Marlowe",
"Wallasey"
and
"Royal Iris"
were 151 feet overall. Although the previous rule was that vessels over 150 feet required two mastheadlights it did not specify overall length. Wallasey tried to get an exemption to the rule claiming that the rubbing band at the stern was removeable and therefore the three vessels were in fact under 150ft. However, the Authorities dis-allowed this claim. Certainly, all three ferries had mainmasts added during the 1950s.
In the case of Birkenhead their vessels were all

158.5 ft. I think that the reason that the Birkenhead ferries did not have mainmasts prior to this was that they were restricted to Smooth Water limits. This meant that they could not operate seaward of Perch Rock.
(Info: Geoff Holmes)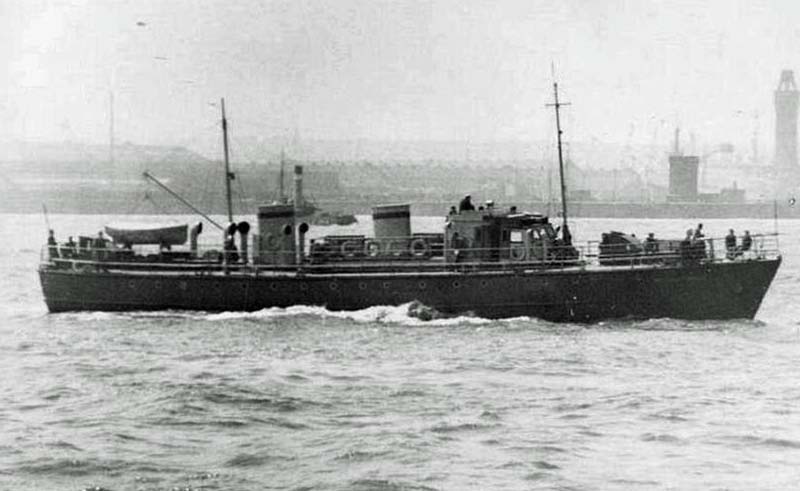 Wallasey Belle former WW2 Fairmile 'B' boat, and was NOT a torpedo boat as some think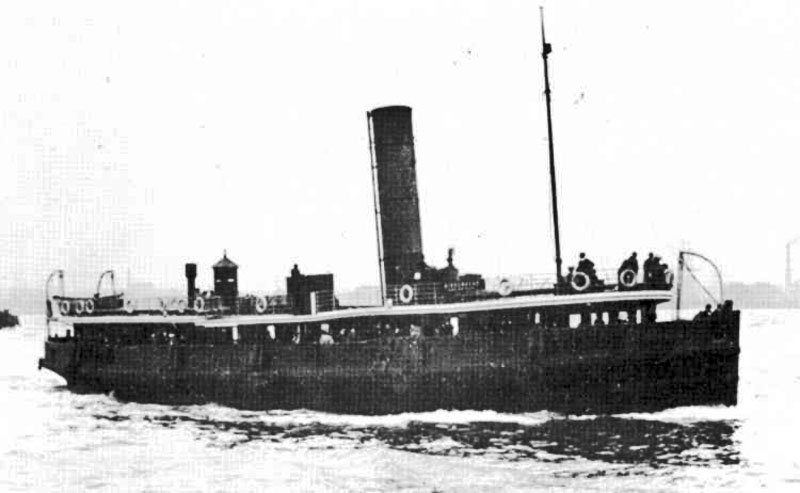 Bidston 1903 ferry. This vessel was sold to Blackpool owners in 1933 and renamed "Minden".
She did make some trips from Liverpool and New Brighton to Blackpool. She was broken up at Preston in 1937.

Bidston 1933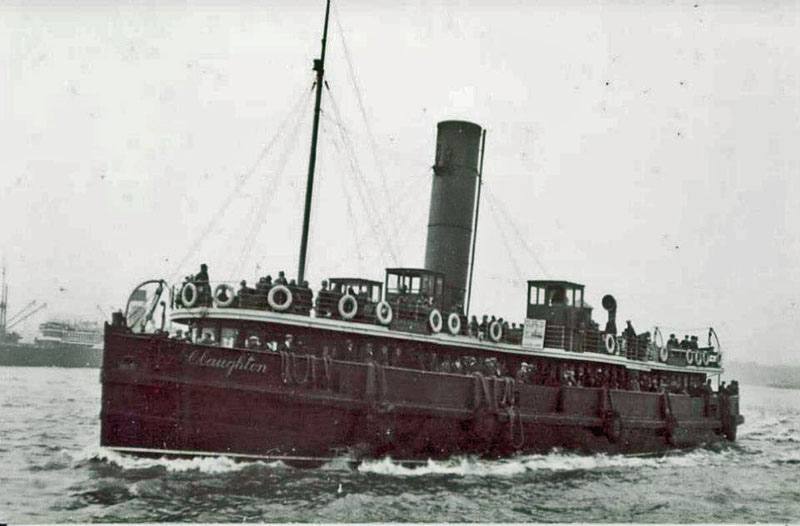 Claughton. This is the 1899 version and was renamed Old Claughton in 1930. The confusion over the Claughton boats
is further compounded by this info from Geoff Holmes. I feel that there is a Claughton mixed in somewhere but was not in the
dates of ferries joining the fleets?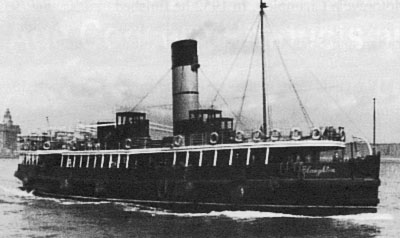 Claughton arriving at Woodside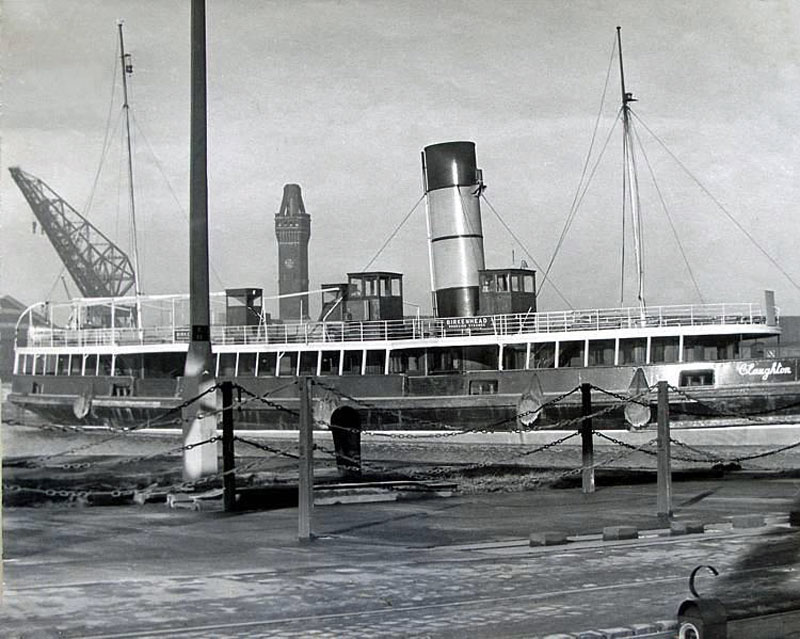 Claughton Laid up in 1961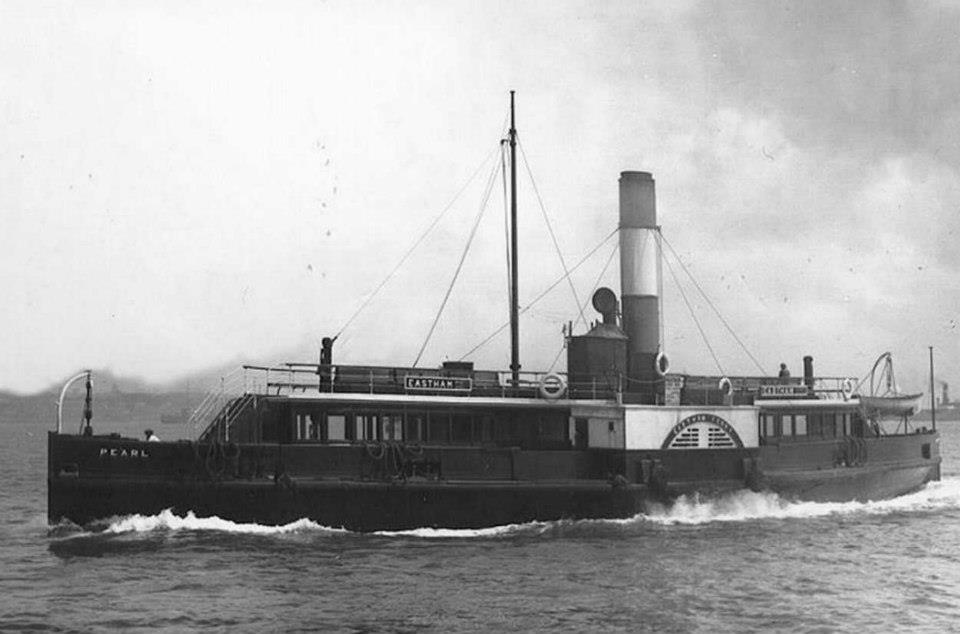 Pearl - Eastham Ferry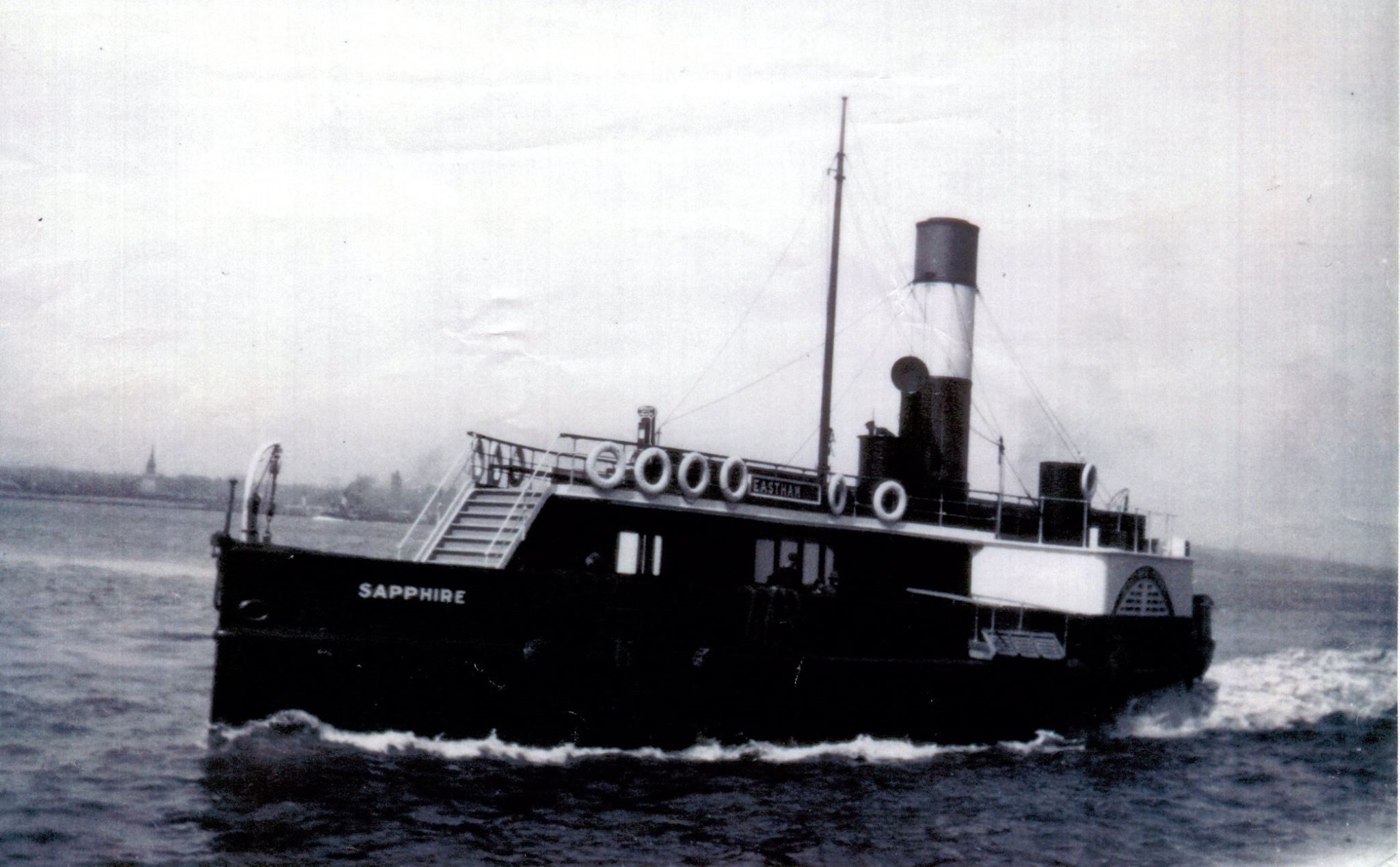 Sapphire - Eastham Ferry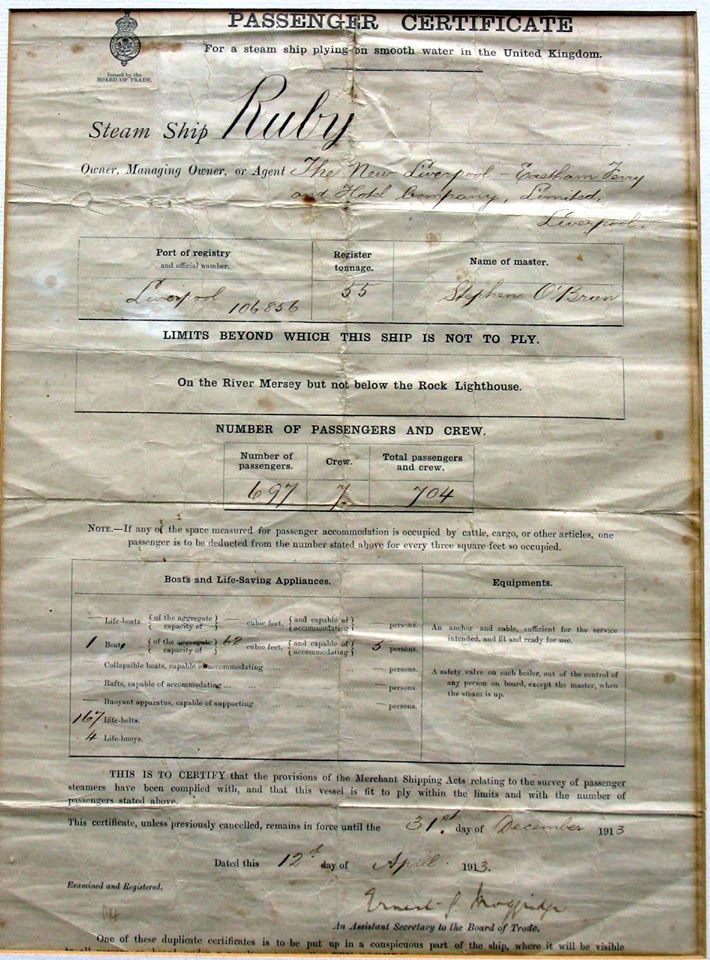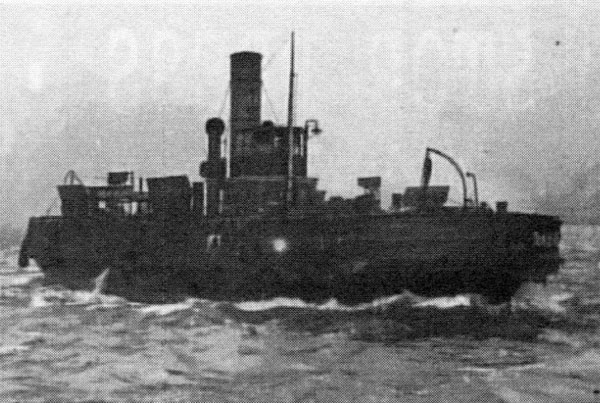 Tranmere Luggage Boat ended its service in 1925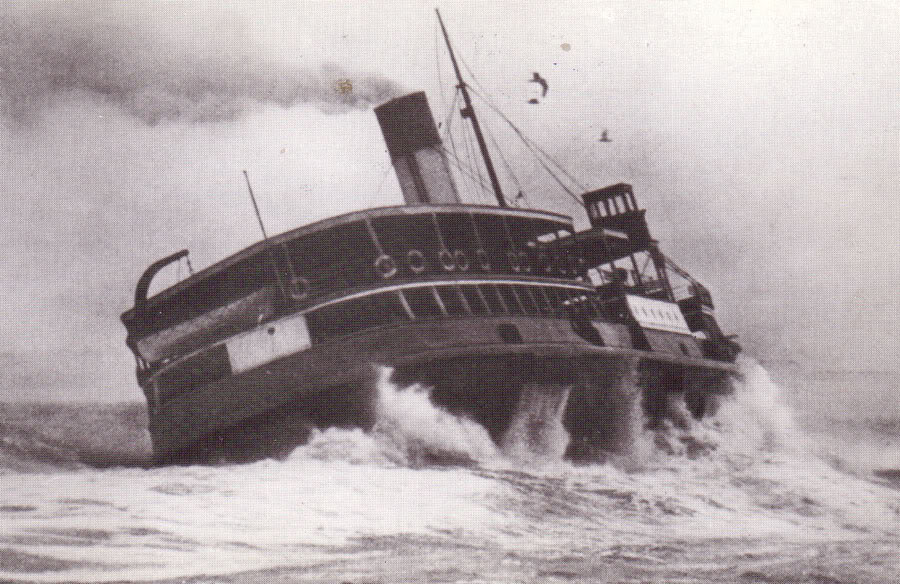 Ferry 1930s. This is the Marlowe or the Wallasey - (Info Geoff Holmes)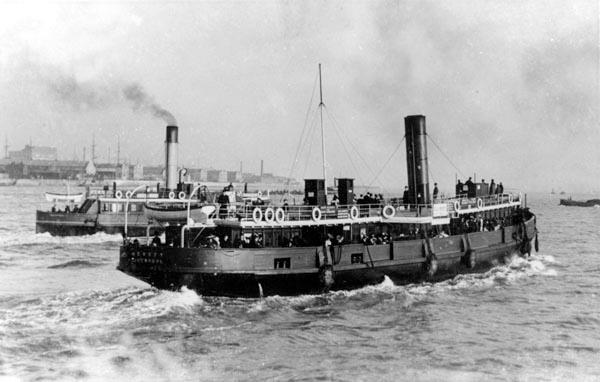 The vessel in the background is the Onyx. This was built

for

the Great Eastern Railway as the "Norfolk" in 1887 for service on the River Orwell from Ipswich to Harwich

and Felixstowe.
She was bought by the Eastham Co. in 1897 and was sold in 1912. The vessel in the foreground, Mersey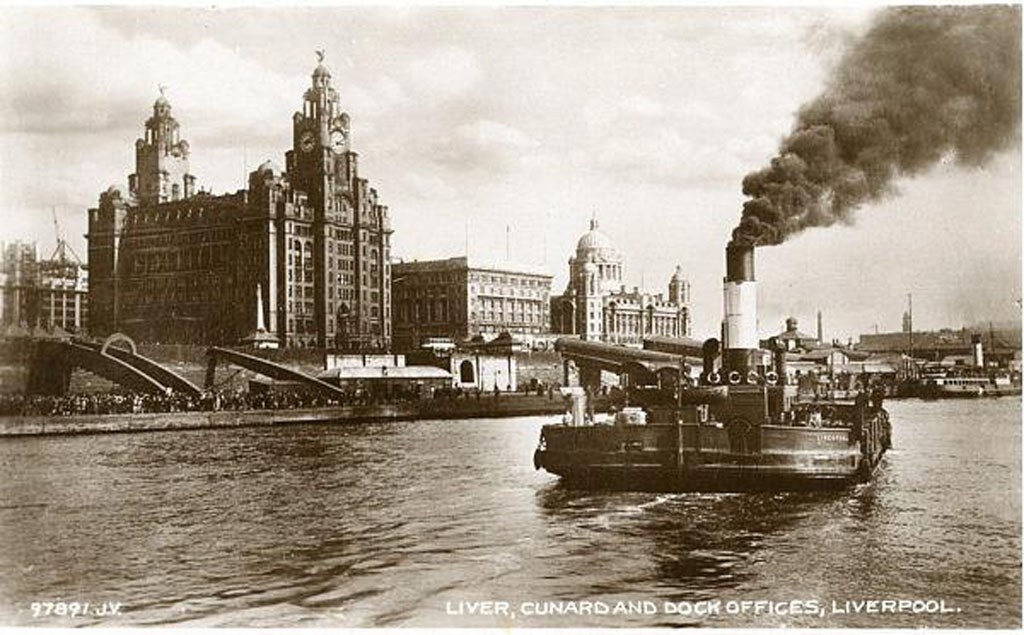 Prenton post 1906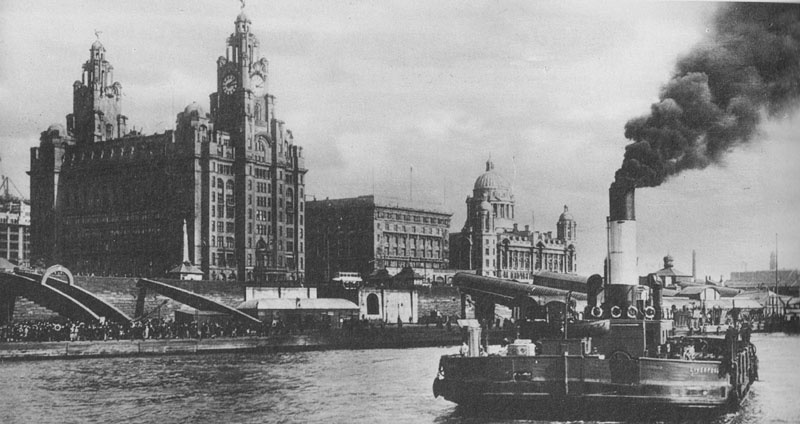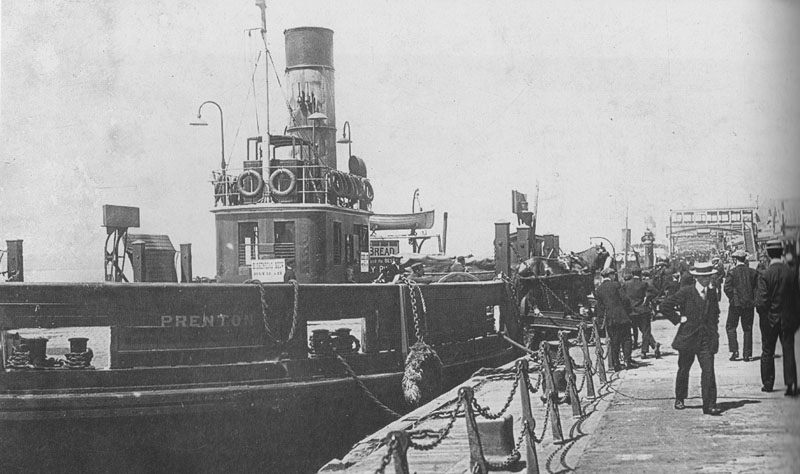 Allegedly this is the SS Liverpool prior to 1906 when it was renamed Prenton. BUT, there is no record of any of the Wirral Ferry boats called Liverpool but the Prenton comes into existence in 1906. This was a double ended boat. In the first pic the letters 'Liverpool' are in fact the port of registration not the name of the boat.
I think I have solved this, the SS Liverpool did not exist. I think the author of this book, in which both accounts occur, states also that the Prenton was built by the Caledonian Shipping Co and introduced in 1906. The author does not know what he is talking about.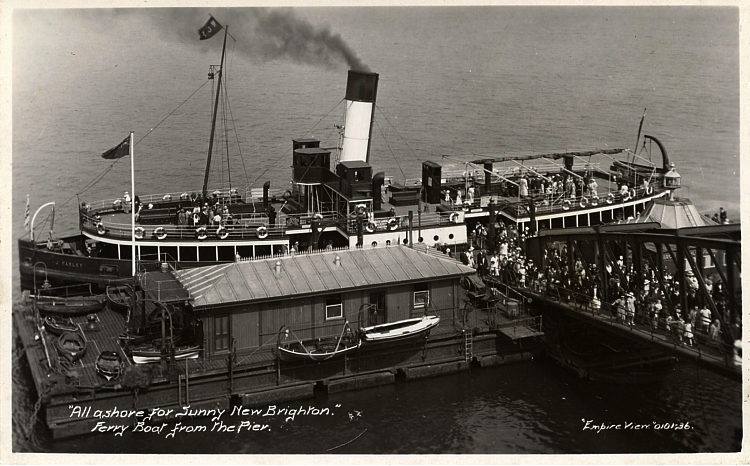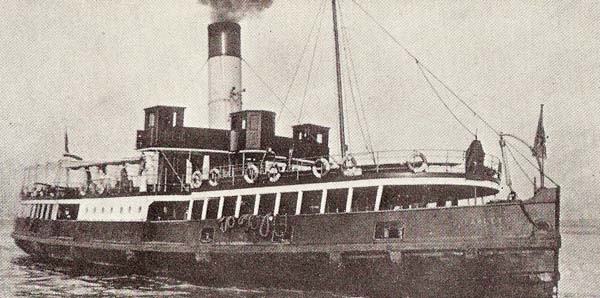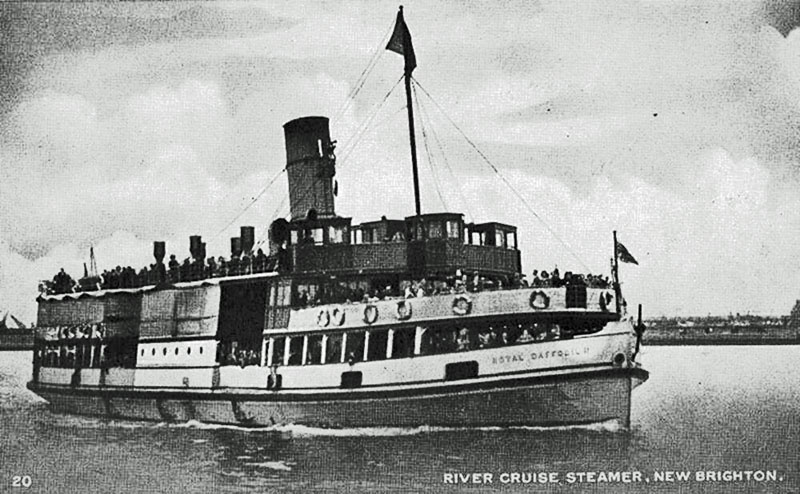 Royal Daffodil II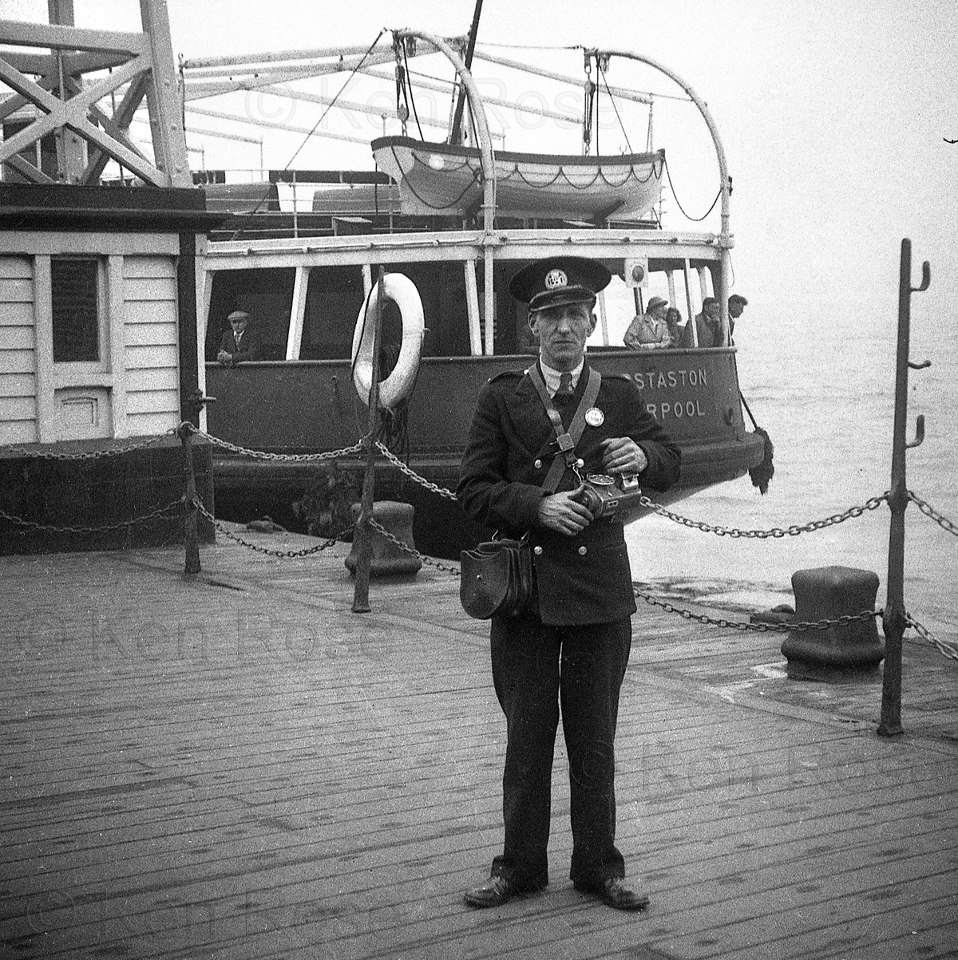 The Thurstaston. The bus conductor - the 'clippy', came down on his break with bus driver Ken Rose, who took the image

Brand new Mountwood or Woodchurch arriving at Woodside date about 61-62. Woodside Railway station can be seen behind
the ferry terminal and Cammel Lairds shipyards to the left

Mountwood, 1961 still on the rover in 2020 as the Royal Iris of the Mersey (2002) and painted like a picasso reject.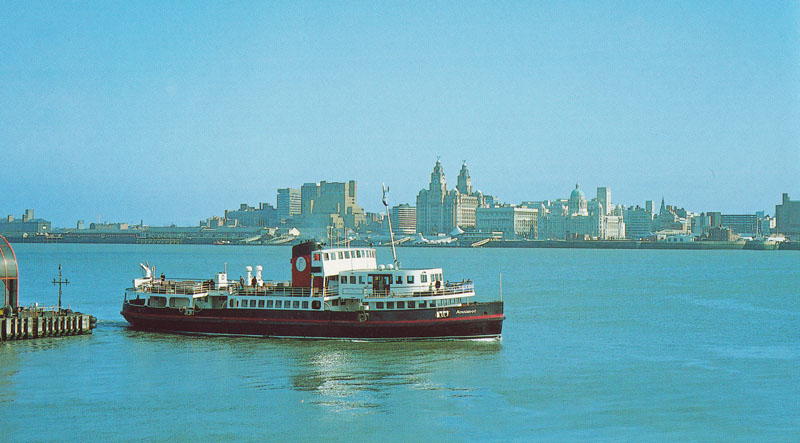 Mountwood - In the 90s before they ruined the Pierhead Skyline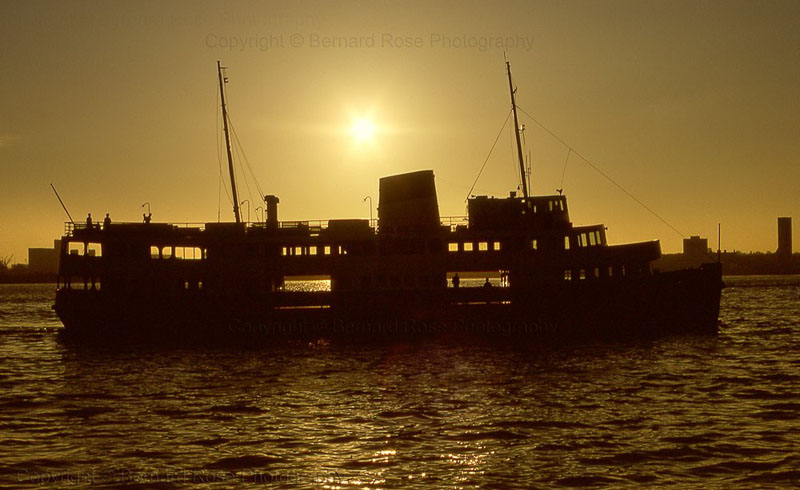 A Bernard Rose Photograph - Royal Daffodil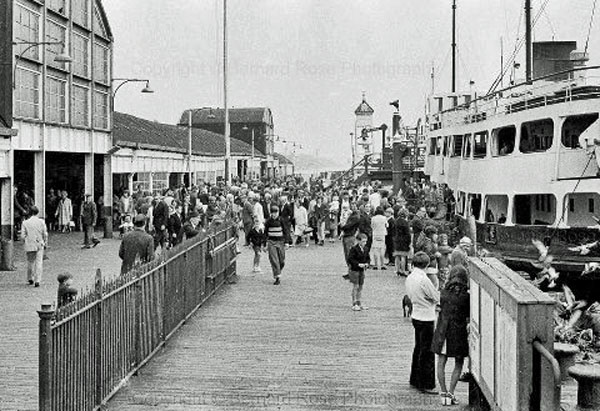 Royal Daffodil (and below)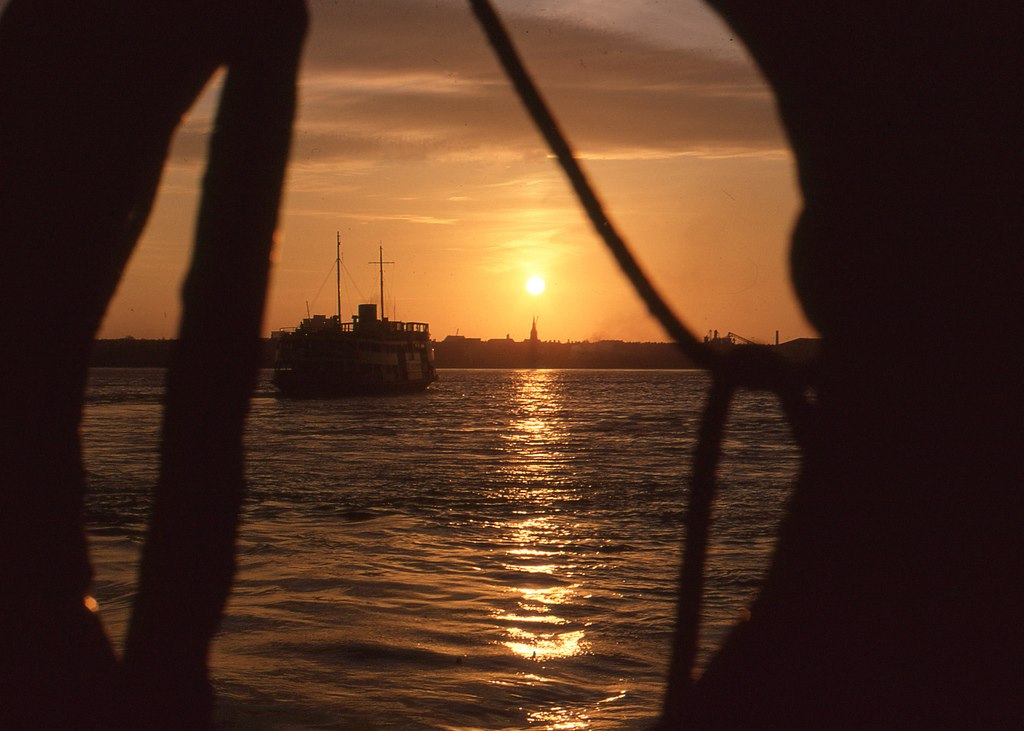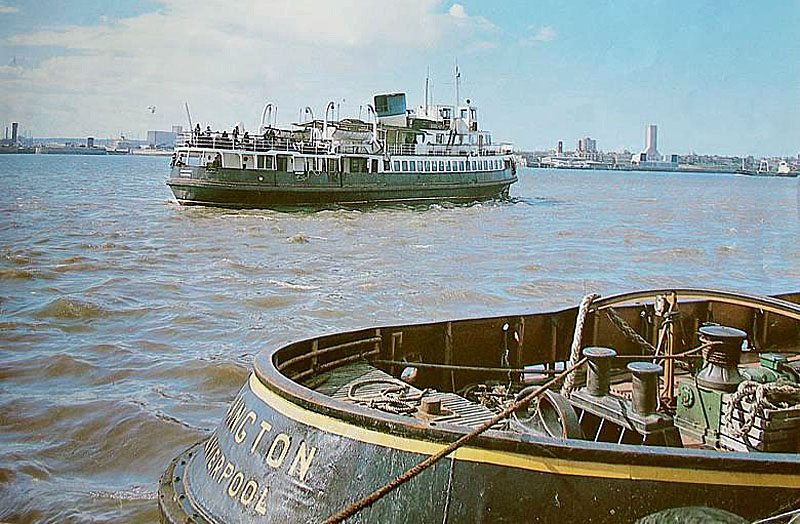 Egremont (and below in 1965). Now a Yacht Club HQ in Salcombe. She can be seen here http://www.islandcruisingclub.co.uk/
The Egremont has now been gifted by the Club into a charitable trust, but is still used as an RYA training centre and is the Clubhouse at weekends
Malcolm Toone - Membership Sec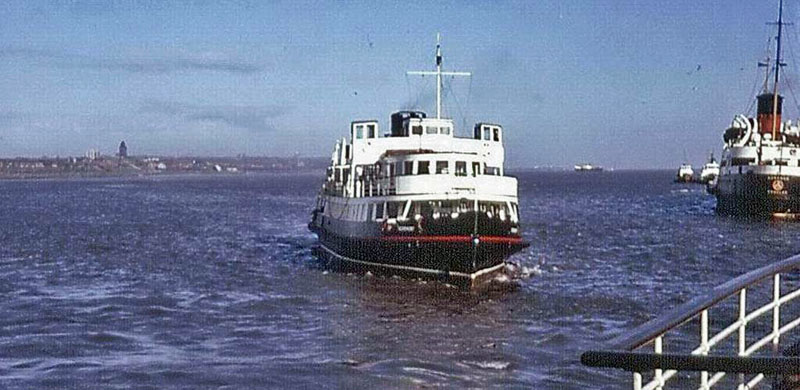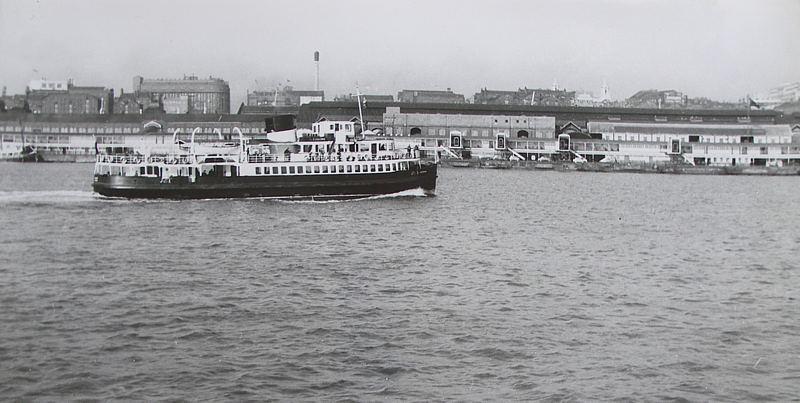 Leasowe
How the Leasowe ended up, in Greece - article is approx 1993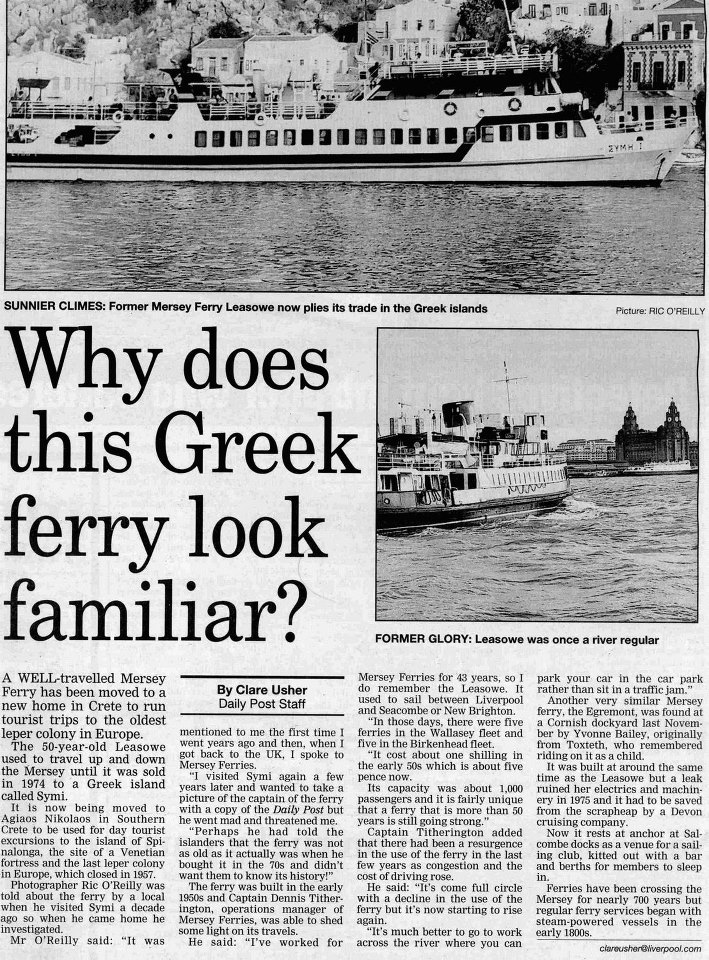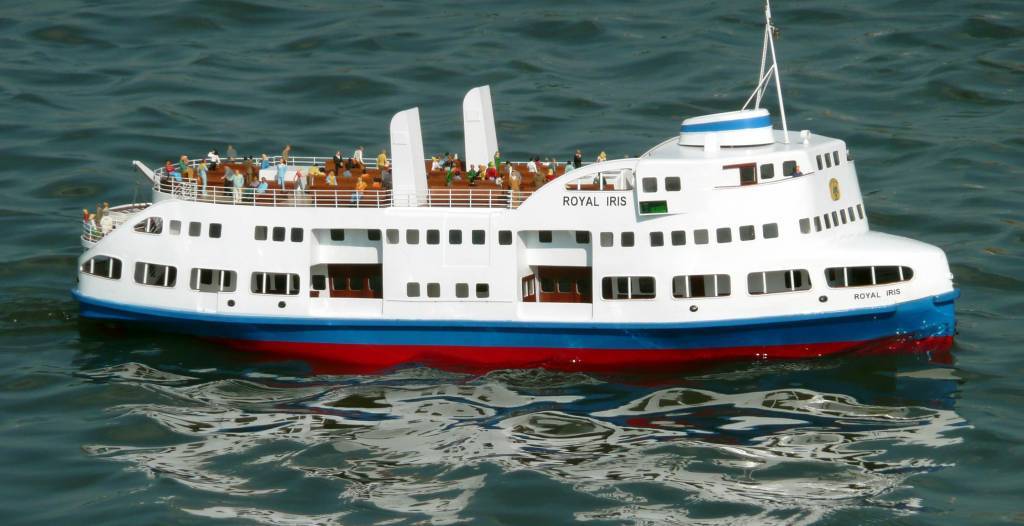 This photo of the superb model of the Royal Iris with MPTE colours, was taken on New Brighton Boating Pool in June 2009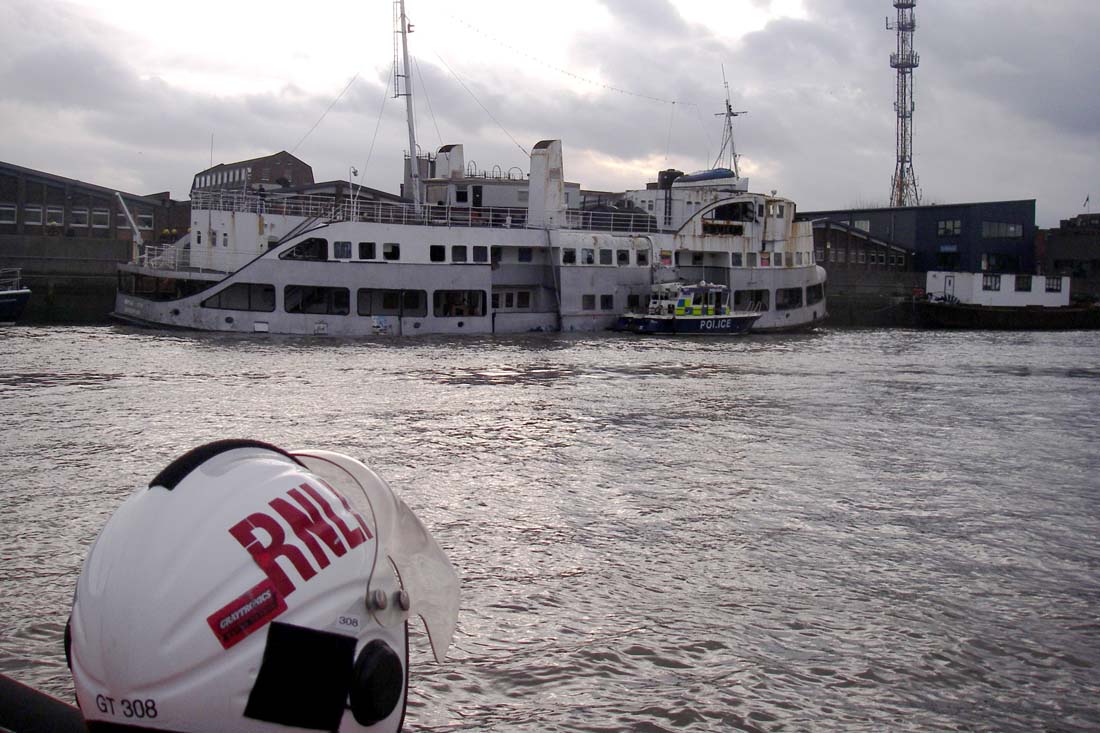 A fairly recent photo, sadly she will be scrap soon. Is this not fly tipping on a grand scale? The ageing Royal Iris, the last ex-Wallasey vessel, was considered surplus to requirements.
She was sold in 1993 to a consortium for conversion into a floating nightclub, based in Cardiff. This venture ultimately did not come to fruition. Since 2002 the vessel has been
laid up on the River Thames awaiting a 'possible' refit as a floating nightclub. http://en.wikipedia.org/wiki/MV_Royal_Iris 2011. Now, as we all know, the Royal Iris is not even
a 'floating' hulk, being sunk on the bed of the River Thames with a hole in her side. To convert or save her now would cost far too much money.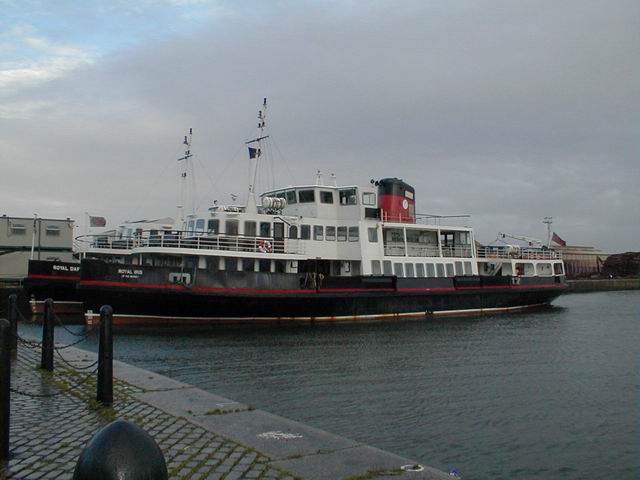 Royal Daffodil (ex Overchurch) & Royal Iris of the Mersey (ex Mountwood) from http://www.amerseyferry.co.uk/
2013 Ferry names and their previous:
Royal Daffodil - ex Overchurch (Now laid up in Bhead dock)
Royal Iris of the Mersey - Ex Mountwood
Snowdrop - ex Woodchurch
Email - November 25th 2009: My family, Palmer Brothers in Cork bought the Royal Iris ( of Zeebrugge fame) and the Lily and Rose and used them as tenders to the liners when they called to Cork Harbour. The Rose and Lily were renamed Failte ( Irish for welcome) and An Saorstat ( the Freestate) . Is there any record of which was which, this is a question sent to me recently? Family records are pretty meagre and all of the crews and principals of the family have gone to their rest. The Royal Iris name was retained and my family returned a plaque which commemorated the activity at Zeebrugge to Liverpool . Is there any trace of this plaque in Liverpool? Any links to further history of these ships would be very welcome. R Palmer. You can email R Palmer directly at: rfpalmer - at - ukonline.co.uk can you also copy any info to me please?
Chris Neil emailed me in Jan 2010: My great grandfather James Macfarlane who shows on the 1911 census living at 17 Hawthorn Grove and working aged 54 on the " ferries Council". He probably worked from Seacombe given where he lived.

7. Mother Redcap's
Most of these images are my own property but some came from these and some are just links:
My thanks to the members of the Mersey Ferry Group on Facebook: David Langton, Brothers Grin, Jeanette Land, David Garbutt, Robbie Quinn, Brian Gill, Robert Hayden Foy, Mersey ferries. David Langton actually does talks on the ferries. I saw him in October 2012 in the Floral Pavilion in New Brighton doing such a talk. Well worth a visit. Link to the Group is below. David is a former skipper on the ferries.
http://www.hslc.org.uk/ The Historic Society of Lancashire & Cheshire
http://www.amerseyferry.co.uk/