Bidston Village

Village Buildings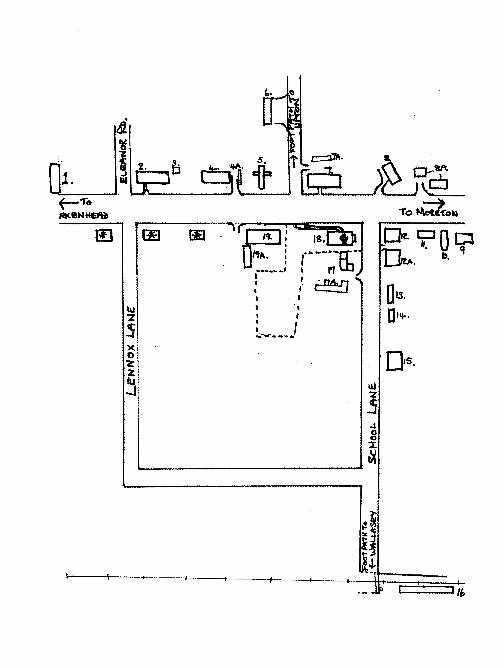 Map of Bidston Village
1. THE TOLL HOUSE 2. THE TWEED SHOP (Became a grocery shop) 3. THE SWEET SHOP
4. YEW TREE FARM 4A. BARNS 5. W.W.1 WAR MEMORIAL 6. THE PARISH HALL (long gone)
7. IVY FARM 7A. BARNS 8. CHURCH FARM 8A. BARNS 9. THE VILLAGE SCHOOL
10. HILLCOTE 11. TWO ALMS HOUSES 12. STONE FARM (in earlier days THE RING 0'BELLS)
12A. BARNS 13. 9 & 11 School Lane 14. THE WHITE THATCHED COTTAGE. (demolished years ago)
15. THE VICARAGE at 19 School Lane 16. BIDSTON STATION 17. SCHOOL LANE FARM.
17A. BARNS. I believe this is the farm in the painting with the little girl. It has gone through several renovations since.
18. St. OSWALD'S CHURCH 19. THE LILACS FARM 19A. BARNS *** BUNGALOWS. There may only be two.
My thanks to Mavis (Sutton) Somma (USA) for the above map and details
My thanks also to the "computer" lady in Birkenhead Library Reference Section who was more than helpful to me (12/04/04)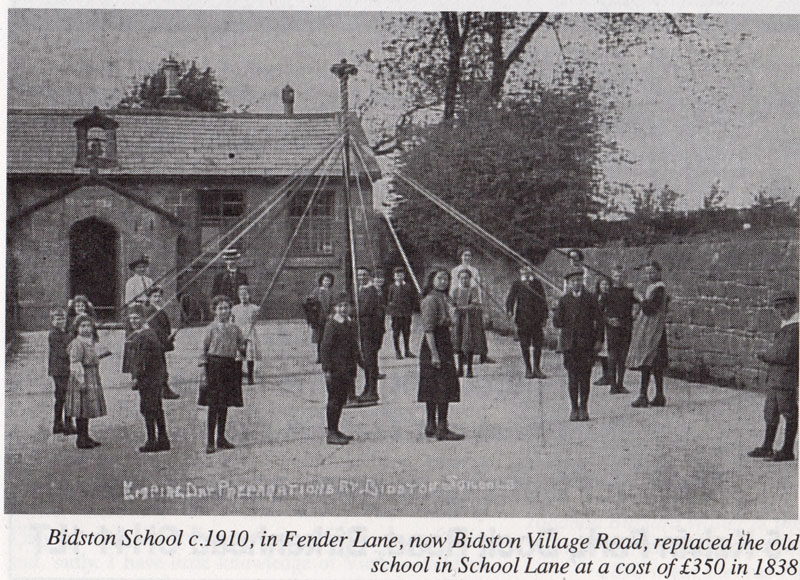 Bidston from Boundary Road - February 4th 2009 - Boundary Road Bidston showing how it was cut from the solid rock

In 1870-72, John Marius Wilson's Imperial Gazetteer of England and Wales described Bidston like this:

BIDSTONE. a township and a parish in Wirrall district, Cheshire 'The township lies on the Hoylake railway, 3 miles WNW of Birkenhead; and has a railway station. Acres, 1,689. Real property, £3,062. Pop., 282. Houses, 48.—The parish includes also the townships of Moreton-cum-Lingham, Claughton-cum-Grange, and Saughall-Massey or Saughan-Massie; and its Post Town is Birkenhead. Acres, 4,248. Real property, £20,130. Pop., 2,154. Houses, 323. The property is subdivided. Bidstone Hill commands a fine view of the surrounding country, the Mersey, and the Irish sea. ...

A lighthouse, 50 feet high, stands on the hill, showing a fixed light, elevated 300 feet above high-water, visible at the distance of 23 miles, and leading, when in line with Leasowe light, through the Horse channel at the Mersey's mouth; and a telegraph was adjacent, communicating eastward with Liverpool, and westward, through a chain, with Holyhead. Waterworks for Birkenhead, and a cemetery with two chapels, were being formed in Bidstone in 1862. The living is a vicarage in the diocese of Chester. Value, £98.* Patron, the Bishop of Chester. The church is excellent. Claughton and Moreton are separate benefices. A school has an endowed income of £15, and other charities £5.




July 2003 (War Memorial can be seen on left) See also below

Yew Tree Farm






Bidston(e) Cottage (Courtesy of Peter Rodger)

Label from the painting above reads: No 1: Cottage at Bidstone with a letter (below) from Walker Art Gallery authenticating the work as
David Woodlock and giving details about the artist. (c) Kemble & Rodgers 2003. I believe this is Yew Tree Farm, see below.

In August 2016 I was sent a series of images, probably never before seen, of Birkenhead and a couple of Bidston. Here is one of Yew Tree Cottage. Image belongs to Alan Perry, a cousin of Bill Hislop.
My thanks to Bill Hislop for the Ivy cottage information and for the images below

The images below are in the possession of Bill Hislop. Two of the children are blurred, indicating the time exposure!
Possibly a mixture of Roydon's and Griffiths.

Yew Tree Farm Feb 4th 2009 and right
and below, in 2012



This image of the Lilacs was sent to me by Angela Carey, her father lived here, as did her grandparents and great grand mother Hannah




Lilac Cottage (From Teri) and below in Feb 2009

Bill Hislop has this original Oliver Silk painting of what we think is Ivy Cottage in 1899, it is definitely Bidston however.




Ivy Farm July 2003




February 2012




Ivy Cottage 1965 with Jenny Minshull & Right, Beryl Parkinson

July 2003 - Ivy Farm and right, in Feb 2012

Church Farm

1880s



July 2003 & Right

and right, 6 years later, in Feb 2009



2012

Len & Sarah Gardner (nee Cleaver) Church Farm 13th May 1961 (Image: Malcolm Owen.)

School Lane Feb 2009 Bidston Railway Station was at the other end, but has since been cut off by the By Pass. The building on the left was formerly the Ring o' Bells; Bidstons only Tavern. A famous destination for smuggled drinks across Bidston Moss. It was finally closed down many years ago after the landlord drank more than he sold, and the licence was subsequently revoked. Bidston to this day is 'dry'.

Smugglers



IF you wake at midnight, and hear a horse's feet,




Don't go drawing back the blind, or looking in the street,




Them that ask no questions isn't told a lie.


Watch the wall my darling while the Gentlemen go by.



Five and twenty ponies,


Trotting through the dark -




Brandy for the Parson, 'Baccy for the Clerk.




Laces for a lady; letters for a spy,


Watch the wall my darling while the Gentlemen go by!



Running round the woodlump if you chance to find




Little barrels, roped and tarred, all full of brandy-wine,




Don't you shout to come and look, nor use 'em for your play.


Put the brishwood back again - and they'll be gone next day !





If you see the stable-door setting open wide;




If you see a tired horse lying down inside;




If your mother mends a coat cut about and tore;


If the lining's wet and warm - don't you ask no more !





If you meet King George's men, dressed in blue and red,




You be careful what you say, and mindful what is said.




If they call you " pretty maid," and chuck you 'neath the chin,


Don't you tell where no one is, nor yet where no one's been !





Knocks and footsteps round the house - whistles after dark -




You've no call for running out till the house-dogs bark.


Trusty's

here, and

Pincher's

here, and see how dumb they lie


They

don't fret to follow when the Gentlemen go by !





'If You do as you've been told, 'likely there's a chance,




You'll be give a dainty doll, all the way from France,


With a cap of Valenciennes, and a velvet hood -


A present from the Gentlemen, along 'o being good !



Five and twenty ponies,


Trotting through the dark -




Brandy for the Parson, 'Baccy for the Clerk.


Them that asks no questions isn't told a lie -




Watch the wall my darling while the Gentlemen go by !




the buildings to the rear of the Ring 'o Bells
(I bet they could tell a tale or two)

School Lane, the Ring 'o Bells and (right) the original signpost to the station. January 2011. The other side has been painted out.

Formerly the Ring o Bells and St Oswalds Church - Feb 29th 2012

Opposite Church Farm Jan 2011

What was the Village shop, The Bay windows as where the huge riveted oak doors were - 2003

Ancestor of Bill Hislop Bidston Golf Club date unknown

This is a 1909 painting of Bidston Hall Farm (Lilac Cottage). The viewpoint is the war memorial, modern day on the right
My thanks to Murray Dale for sending me the images. Here, below, is the reverse:

Jan 09: Mark Branscombe sent me the above image (right), its the same - I should have realised!!

This is on the back of the above painting, dated 1909



Cottages in School Lane Bidston

The Hill from the graveyard - Feb 29th 2012

1950s approx and the same image in July 2003 and below in Feb 2009 - Tithe Barn

From Brenda Johnson: On a recent trip to England visiting family, I was delighted to be aquainted with this site. I am the youngest daughter of John Alexander Nelson Carey who was born at "The Lilacs." The Carey family lived at "The Lilacs" for over 100 years. The first Carey was my Great Grandmother Hannah and the last was my Uncle Phillip Carey. It was extremely interesting to see the house so prominently displayed. "The Lilacs" holds treasured childhood memories for my sister and I and it almost seems sacriligious to see the house as apartments now, although much better than it being torn down. As you can imagine I particularly liked the painting of the house shown on the site. If the owner of this painting would ever be willing to sell it, I would certainly be interested in purchasing it. My sister owns two oil paintings of "The Lilacs" which were painted in 1905. Brenda Carey Johnson, Long Beach, California.

Eleanor Road, I can recall this from my childhood. Sadly housing has encroached to the very base of Bidston Hill now eg: Ford Estate.

A lot of the ambience and character of Eleanor Road has therefore suffered, its called progress!!!!

This is Frankby Hall formerly Bidston Court. But it was originally built in Eleanor Road, Bidston.
The owner, shipping magnate Sir Thomas Bland Royden, had it moved to Frankby.


Bidston Court 1897


Originally the gates to Bidston Court, now at Calderstones Park

War Memorial




July 2003








Additional Images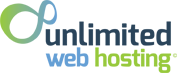 My special thanks to Kenneth Burnley for his permission:
Portrait of Wirral by Kenneth Burnley Hale Publications
Images of Wirral by Kenneth Burnley & Guy Huntington The Silver Birch Press