Birkenhead Pillbox Murder 1955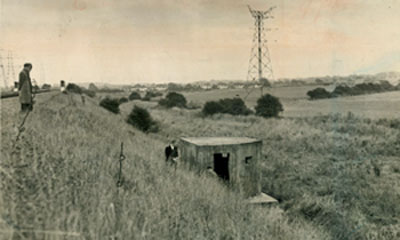 Story is reproduced here by courtesy of the Liverpool Echo and it is they who own all rights to this story.
The body of a woman was found in a pillbox in the Wirral in 1955. The perpetrator was never caught. Late on Saturday morning on the 24th September 1955, Peter Williams aged 11, went out to pick blackberries with his friends and left his parents home at Walby Close on the Woodchurch Estate, Birkenhead. Brian Lennon, aged 11, a 12 year old boy named John Williams and Peter's 4 year old brother. They all lived nearby to Peter on the Woodchurch Estate, Birkenhead. They went to a nearby railway embankment where stood nearby an old WW2 pillbox. Apparently this had been used by the local Home Guard. Peter decided to take a peek inside and saw what he thought was a dummy. But when he took a closer look, he was shocked to find that it was the body of a woman with clothes over her face.
Peter shouted his friends and then raced home to tell his mother of the find, and here began the baffling case of the Pillbox Murder. Police were very quickly on the scene, headed by the Deputy Chief Constable, Superintendent Tankard. A number of uniformed policemen then arrived at the railway embankment and formed a cordon around the pillbox to keep back the crowds of sightseers.
The then unidentified woman, who looked between 50 and 60 years of age, had been strangled, mutilated, and an obscene three-word sentence had been scrawled on the body in lipstick. Police immediately launched a murder investigation and even brought in a top Scotland Yard detective to co-ordinate the enquiry. In the beginning of the investigation the Police were hopeful of a breakthrough.
A woodsman from Birkenhead Corporation, working at nearby Arrowe Park, named Leslie Poole, told police that on the morning of the day after the murder, at 8.10am, he had found a trail of footprints in the still wet dew drenched grass, leading out of the wood near to the pillbox. A William Shaw, another member of the Arrowe Park ground-staff, said that at 6pm, two days before the discovery of the body, he had seen a couple sitting in a shelter by the local bowling greens, and heard the woman say, 'I am much older than you are'.
Still, as the days wore on, the identity of the murder victim remained a mystery, until the police controversially decided to put the face of the dead woman in the Liverpool Echo - and then came news. Several readers of the Liverpool Echo recognised the dead woman as Alice Barton, an impoverished-looking woman who had been seen in the Kirkdale area. A copy of the Liverpool Echo found its way to John Barton, the 56-year-old husband of the murdered woman, and shocked him, for he had not seen his wife since she walked out on him at Christmas 1943. Police took Mr Barton from his home to Price Street Mortuary in Birkenhead, where he identified of his wife's body. Scotland Yard and Birkenhead CID learnt that Alice Barton had been staying at St Winifred's Hotel - which was situated on the junction of Knowsley Road and Rimrose Road in Bootle - days before her murder, but were puzzled as to why and how she could afford to stay at the hotel, despite having no employment or obvious means of support, is, like the Pillbox Murder, an enduring mystery.
I got an email not long after publishing this, it says:
Possible or Probable Solution
I think I know who killed her. That date, that place, everything matches up to an event that was told to my father.

My grandmother, married a man during the near end of the war and had a few children with him, lived with him near bidston/birkenhead and was constantly abused and battered by him. He also used to hit the children for no apparent reason. He was an alcoholic and every day after work he would go to his local pub (just a few minutes away from the murder scene identified here) and chat up woman, most probably sleep with them or whatever and come home late at night, beat my grandmother and go to bed, drunk. One night, he came home wearing blood soaked clothed demanding my nan to burn them. My nan was so horrified and in shock that she went to throw them in the wash immediately, but he ordered her to burn them there and then. So she did, scared of his drunken temper etc.

She never asked questions about this, (he was a very angry man and I doubt she would put herself more at risk of being beaten again) But a couple of days later, newspapers etc revealed a murder. A womans body found murdered etc. The description fits to a tee. I am so shocked right now. I came across this because I am in the middle of writing an autobiography and thought I would google anything to do with a murder around this area and date. The murder here, and the one my nan seen days after the incident with her husband are the exact same, and the killer has never been found, and from my grandad, no words have ever been said about it. Aimie Buckley.
Following on from my disclosure to the Police, the following was published in the Liverpool Echo. But I have only just found it now (Mar 2012), having had no word that it went further.
MERSEYSIDE Police are following fresh leads in a 55-year-old murder case after information was posted on a website. (mine!!)
Prostitute Alice Barton, 49, was strangled and her body dumped in a wartime pillbox in the Fender Valley area of Woodchurch, Birkenhead, in September 1955.
A schoolboy picking blackberries found the body – triggering a police manhunt which led to 40,000 people across Britain being quizzed.
Now detectives are following up a new line of enquiry after the (above) posting on the internet claiming the murderer was her grandfather.
Aimee Buckley, 19, from Wirral, relates a story that was passed down through her dad's family over the years.
She describes the suspicion that her grandfather – her dad's father – who frequented a pub just minutes away from the murder scene, was involved in the killing.
Aimee wrote: "One night, he came home wearing blood soaked clothes demanding my nan to burn them. My nan was so horrified and in shock that she went to throw them in the wash immediately, but he ordered her to burn them there and then."
She goes on to say that a couple of days later the murder of Alice Barton was reported in the newspaper. She adds: "The killer has never been found and from my grandad no words have ever been said about it."
The ECHO understands that the "grandfather" referred to in the message is no longer alive.
Following the discovery, the identity of Alice Barton remained a mystery, until the police controversially decided to put the face of the dead woman in the ECHO.
Several readers instantly recognised her including her estranged husband John, who had not seen his wife for more than 10 years.
The Pillbox Murder sent shockwaves through the Wirral community at the time.
Lancashire-born Alice had drifted into the murky world of prostitution after leaving her husband some years earlier.
She would take her regular customers, mostly truck drivers, to the pill box.
A spokesman for Merseyside Police said: "The investigation into the death of Alice Barton in 1955, as with all unsolved murder investigations, remains open.
"The Serious Crime Review Unit has recently received new information (from me!) about this case, which is being looked into.
2014: I would like to know if the Police decided that the murderer was as described?
2015: Still nothing from the Police. So I have no idea if they came to a successful conclusion.
2017: Helping the cops is nice, especially in cases such as this, but it would also be nice to get some damn feedback.